Transparency and Community Empowerment around Land Investments in Cameroon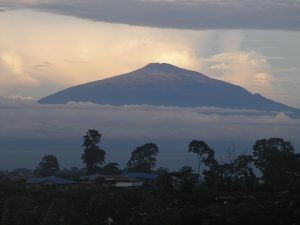 Contracts between governments and companies for large-scale investments, including agriculture and forestry projects, are often inaccessible to affected individuals and communities. The Centre for Environment and Development (CED) in Cameroon has been working with local civil society organizations and investment-affected groups to enhance transparency and accountability around these large-scale projects. With support from an OpenLandContracts.org Mini-Grant, CED developed a tool to help non-lawyers understand contractual obligations, assess company compliance with the obligations relevant to community rights or interests, and take action in cases of non-compliance.
The Columbia Center on Sustainable Investment (CCSI) spoke with Samuel Nguiffo, attorney and founder of CED, to learn how CED has used OpenLandContracts.org in its work.
CCSI: Can you briefly describe the work of CED?
Samuel Nguiffo (SN): In 1994, I founded CED to improve forest management in Cameroon. In particular, CED works with Cameroonian communities that live within and rely upon the forests. CED helps these communities seek justice in sustainably managing their environmental resources. These communities face an increase in industrial production of timber, illegal logging, poaching, and ecological, social and economic problems caused by increased commercial pressures on the forest.
In recent years, CED has increased its focus on non-forestry activities that put forests at risk, such as large infrastructure projects, extractive activities, and agriculture. CED reviews government contracts for such projects and works with affected communities to ensure that the government is including community interests in the contracts and that companies are complying with the terms of these agreements.
CCSI: What is the status of land contract disclosure in Cameroon, and why do you feel open access to contracts is important?
SN: There have been different levels of transparency over time, but, in general, land contracts in Cameroon are relatively inaccessible. In the 1980s and 90s, most contracts were not publicly available. Some contracts were accessible, but they generally related to old deals, and there was no filing system that made it easy to find original contracts. Post 2005, contracts remain difficult to access. You hear about their existence but it is often unclear if deals have been formalized with an actual signed contract. It is incredibly difficult to verify the existence of signed contracts.
CCSI: CED received a mini grant from OpenLandContracts.org. Can you describe the project the grant was used for?
SN: The project, titled "Fair and Transparent Land Investments in Cameroon," seeks to improve transparency and equity in large-scale agricultural projects by enabling communities to demand accountability and act based on information within land contracts. CED is piloting a unique set of guidelines to analyze contracts and assess social obligations, enabling non-lawyers to easily understand a contract, check if a company has been compliant with the contract, and take action in the face of non-compliance. These guidelines are complemented by clear advice on how to monitor the implementation of a contract, and it is expected that communities will become more aware of the importance of strengthening contract transparency. CED is utilizing OpenLandContracts.org to access information on contracts.
With the mini grant, CED piloted the guidelines with two land investments in Cameroon. CED partnered with eight communities and three local non-governmental organizations (NGOs), working with five people per community and two people per NGO. The objective was to increase understanding of the contractual obligations, assess compliance with the social obligations in the contracts, and draw key lessons in order to refine the guidelines. CED worked with affected communities and local civil society organizations to carry out an assessment of company compliance with social obligations. Based on that assessment, CED is working with affected groups to build an advocacy strategy that is customized to the specific company and specific contract.
For example, on the basis of one of the pilot assessments carried out with support from the OpenLandContracts.org mini grant, a community affected by a recently established agricultural project discovered that the company was operating on 500 hectares of land, despite being authorized to operate on only 400 hectares. Moreover, the community found that the land the company was operating on was not in the same location that was specified in the contract, and the contract was signed not by the village in which the company was operating in, but a separate village. CED is working with the community to run a letter writing campaign to alert the minister of the noncompliance. Public pressure has established a new, ongoing dialogue between the company and the community.
Critically, the guidelines help to establish a structure for dialogue. Affected communities and local civil society organizations are empowered to engage in this dialogue on the basis of the concrete assessment they carry out.
CCSI: What impact has the project had? And what are the next steps for developing or disseminating this tool?
SN: Overall, building the capacity of communities to access and understand contracts has had a powerful effect on developing each community's advocacy strategy. It is one thing to go to a company and say: "we are not happy." It is much more effective to say: "we are not happy because you have failed to comply with article 3 of this contract." The government does not always have the structures in place to monitor corporate compliance in every community. By increasing access to information and building capacity of community members, we empower them to take charge of compliance in their own communities.
CED plans to share the guidelines with other NGOs so that they can be used to support communities in other areas. Creating a critical mass of NGOs using the tool will also generate more information about company compliance with social obligations in these agreements.
CCSI: Have you and the rest of your team used OpenLandContracts.org in other areas of your work? If so, how?
SN: We use OpenLandContracts.org to access contracts across African countries. Outside of CED's own website where we publish Cameroonian contracts, OpenLandContracts.org serves as our main source of contract information. For example, we are currently using OpenLandContracts.org to review land contracts across the African continent in order to assess provisions that governments have included in their contracts, and to provide guidance on the types of provisions governments in this region should and should not include. It is incredibly useful to have all the contract information in the same place.
Kelly Ward is an intern with CCSI's Land, Agriculture & Human Rights team and a current graduate student at Columbia University's School of International and Public Affairs. Prior to joining CCSI, Kelly worked in the public health, microfinance, and agricultural sectors in the United States, South Africa, Jordan, Peru, Indonesia, and Bangladesh.
OpenLandContracts.org was launched in October 2015 by CCSI with support from the UK Department for International Development (DFID). The repository currently includes more than 210 contracts and associated documents from 14 countries. To help stakeholders understand these often-complex legal documents, OpenLandContracts.org also provides plain-language summaries, or annotations, of each contract's key fiscal, social, environmental, operational, and human rights provisions.
Follow CCSI on Twitter, Facebook, and LinkedIn for updates as more contracts are disclosed on OpenLandContracts.org. We welcome your questions, comments, and feedback and ask that you contact us by email ([email protected]).
This blog was originally posted on the Earth Institute's State of the Planet.