Mateusz Ciasnocha Alumni Profile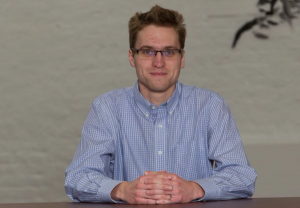 The Columbia Center on Sustainable Investment (CCSI) launched an Alumni Profile Series in which alumni of CCSI's Executive Training on Sustainable Investments in Agriculture
are interviewed about their career paths.
In this profile, Mateusz Ciasnocha, Incubation Manager at AgriTech Hub VC, and a 2019 Executive Training alumnus, discusses his personal trajectory and factors that allowed him to get to where he is today.
1. What do you do for work?
I wear two major hats. Firstly, I manage all international activities for my family's business, producing animal feed on approximately 1,800 acres of farmland in Northern Poland. Secondly, I work as the Incubation Manager at AgriTech Hub VC, the first-ever, and so far the only, venture capital fund dedicated to agriculture and food in Poland and Central and Eastern Europe (CEE). In this role, I am responsible for developing relationships with potential investment targets, as well as the wider AgTech ecosystem. As soon as such investment is completed, I work hand-in-hand with our portfolio company's management to develop those businesses.
I am now busy building two coalitions. One that will bring the FABLE Consortium (Food, Agriculture, Biodiversity, Land-Use, and Energy) to Poland and a second one that will bring Nuffield Scholarships into Poland. I actually first heard about FABLE from Professor Jeffrey Sachs at CCSI's Executive Training. The very moment I heard about it, I said to myself: "Yes, Poland will be part of it," and so I am working on it. Nuffield Scholarships is also a global initiative, which provides farmers and agriculture-related professionals with an opportunity to conduct research on topics of their interest over an 18-month period. I encourage anyone in a relevant position to consider joining me in similar efforts to bring FABLE and Nuffield to your respective countries.
2. What does a typical day look like?
My typical day is split between preparing for, attending, traveling to, and following up meetings. I am on the road outside of Poland for about half of my working time. For the remainder, I am based between the AgriTech Hub's Warsaw office and our family farm located in the proximity of Gdańsk.
Outside of these meetings, I am focused on developing an understanding of what the founding teams want to do. When it is harvest time on the farm, in June and August, it is usual to see me driving the tractor on the farm. When I am on the road outside of Poland, I usually attend a conference or a training program, such as CCSI's Executive Training, and combining it with doing some field visits on the side.
3. How has your career trajectory led you to where you are today?
Looking back, it mainly stems from being born on a family farm, curiosity, (good) luck, my desire to travel the world, study, and work internationally. Being born on a family farm, one may think there is not much choice regarding future career paths, and this is certainly how I felt as a young child. However, my parents kept reminding me that education can open completely new opportunities in one's life and hence encouraged me to study. My mum encouraged me to study in general and my dad placed a particular focus on learning English, which led me to participate in the 4H exchange between Poland and the US. Since then I've known that I want to stay in agriculture and operate in the international business environment.
With this experience, I decided to pursue a Bachelor in Business Administration at Hult International Business School, which enabled me to study in London, San Francisco, Dubai, and Shanghai with students from over 150 nationalities all at once. In a turn of events, the master's program I was accepted to canceled the Agribusiness Management degree one month prior to the scheduled start date, and I instead accepted a spot in their Energy Management master's program. Looking back, it is one of the best things to have happened to me professionally, as I entered into a sector of which I had no idea, but quickly learned, is very much connected to agriculture.
From there I decided to work in India for half a year in order to gain hands-on experience with smallholder agriculture. This is exactly what I have achieved through joining IDEX Fellowship and working with Vrutti –an NGO supporting small-holder farmers. Finally, participating in last year's Executive Training at CCSI played a role in shaping my career. Through it, for example, I was exposed to FABLE, which I'm now seeking to bring to Poland.
4. What major issue related to sustainable investments in land are you particularly interested in at the moment?
I am singularly interested in pushing regenerative agriculture forward, in particular via promoting capitalizing on carbon credits at the farm level and incorporating carbon credits into the common agricultural policy of the European Union. I am passionate about this issue for a variety of reasons. While it is a fact that agriculture has experienced massive success in productivity increases that has consequently increased production, reduced poverty and aided in feeding the hungry, there are still people who go to bed hungry and for whom agriculture has a negative environmental impact.
This can change: agriculture can and should be the main actor in reversing climate change while contributing to a sustainable diet, communities, and land use. Looking at agriculture through the lens of CO2 flows will not only rationalize agriculture–and hence achieve all those positive spillover effects mentioned above–but also could provide additional income to farmers if this captured CO2 is positioned on the market. This offers a tremendous opportunity for our own family farm in Poland, as well as a structural opportunity for agriculture globally. I encourage anyone interested in learning more on this subject to read the book Drawdown.
5. What was your main lesson learned or take away from CCSI's Executive Training on Sustainable Investments in Agriculture?
From the sessions I learned the importance of connecting with people before moving to business. Make sure that relationships based on trust are present before you start thinking about business. You have to deeply care for the people you are given the opportunity to interact with in the class. Understand where they are coming from and what their motivations and desires are before you say "let's do business together."
6. How do you apply that lesson in your work?
In operational terms, I am focused on asking questions rather than trying to get my points across. Ask deep questions, listen, think about what you hear, and act accordingly. This is the philosophy I try to follow daily in my work and personal life.
7. What advice would you give to young professionals in your area of work?
Prepare well for meetings (do your research), ask questions, and be relentless in following-up.