Here's How Cameroon Can Achieve Land Contract Transparency
By
Téodyl Nkuintchua
Sam Szoke-Burke
Horline Njike
August 29, 2018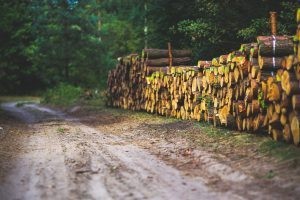 Cameroon's code on transparency and good governance is finally here. The law promises to remove the shroud of secrecy that has hovered over contracts and concessions the government has signed with natural resource investors.
The law presents a major opportunity for the improvement of good governance in Cameroon. One key feature of the new law is that contracts that the government signs with investors exploiting natural resources must now be made public. If read literally, the law should also require the publication of investor-state contracts for land-based investments, such as agriculture and forestry projects, which would be an important advancement in the fight for transparency. While there will be a lot of important discussion around what this means for the extractive industry in Cameroon, the importance of this new law for transparency of land-based investments should not be overlooked.
Who benefits from contract transparency?
The new law is good news for Cameroon's land sector. Land owners, investors, and public officials can look forward to more efficient negotiations and monitoring processes. Government agencies will also benefit from making contracts publicly available. For example, regulatory bodies, such as the Directorate General of Taxation, will be able to quickly obtain the terms of contracts signed by the government when they monitor investment projects within their remit.
Contract transparency is also critical for the local communities who are affected by land-based investments, and whose livelihoods depend on the sustainable management of their lands and resources. Local communities are usually kept in the dark about deals the government has struck with specific investors, and struggle to discover what rules the investor is bound by. Is the investor required to consult with the community? What land specifically is the investor allowed to use? Are there any limits on the amount of water or chemicals the investor can use? Answers to such questions, if not in national laws, will often be in contracts negotiated between the government and private investors. Thanks to the new law, these contracts should now be made public.
We have been involved in investigating the extent to which communities in Cameroon know about forest contracts that could directly affect them. In almost every case, community members had not seen a copy of the contract affecting their lands. They were left guessing the number of classrooms, hospitals, hangars or roads, to be built by nearby companies. This was a major source of tension, and even local conflict. Making these contracts public can help to reduce local conflict by managing people's expectations, creating opportunities for communities to provide constructive comment, and further encouraging investors to honor the contracts they sign.
Citizens of Cameroon more generally will also benefit from the law's high standards. For instance, there will be increased public scrutiny of how the government manages the revenue it collects through taxes paid by companies. The code also requires the government to show how much revenue it earns from natural resource investments.
So what is the current state of contract transparency for agricultural and forestry projects?
Some land contracts from Cameroon are already publicly available. Columbia University's OpenLandContracts.org website currently hosts 10 agricultural contracts and decrees from Cameroon, for instance. And other contracts can be found in other regional and national websites. But this represents a tiny part of the information that currently exists. We estimate that more than 200 forestry projects and some 60 agricultural projects—all of which will have types of government contracts—are currently on the books in Cameroon. The current difficulties faced in accessing contracts has been a barrier for communities wanting to protect their rights, and for the government's attempts to achieve responsible investment.
Encouragingly, some of Cameroon's neighbors already make some contracts available. The government of the Democratic Republic of Congo posted all of its forestry concessions online. The Republic of Congo, like Cameroon, publishes some contracts in hard copy in its journal officiel, though not systematically. Further afield, Liberia also publishes its forestry contracts, and Sierra Leone has committed to disclosing the majority of its agricultural contracts.
Transparency of contracts and public revenues will not solve the wide array of challenges related to encouraging responsible agricultural and forestry investment in Cameroon. But it can help ensure that all stakeholders are better informed, leading to more productive public dialogue and more inclusive participation in investment planning. Transparency is also increasingly seen as good for business—so say the heads of various mining firms and public officials from around the world. Everything appears to be lined up for Cameroon to advance on contract transparency; we now wait to see if the government will fulfill this promise.
Téodyl Nkuintchua is an anthropologist and regional technical advisor in charge of Development and Advocacy at the Field Legality Advisory Group (FLAG), Cameroon.
Sam Szoke-Burke is a legal researcher at the Columbia Center on Sustainable Investment.
Horline Njike is an environmental lawyer and secretary general at FLAG, Cameroon.
This piece was first published by PLACE / Thomson Reuters Foundation News
***
Voici comment le Cameroun peut atteindre la transparence foncière
Téodyl Nkuintchua, Sam Szoke-Burke et Horline Njike
Le code de transparence et de bonne gouvernance du Cameroun est enfin là. Le code promet de supprimer le secret qui plane sur les contrats et les concessions que le gouvernement signe avec les investisseurs qui veulent exploiter les ressources naturelles.
Il présente donc une opportunité majeure pour l'amélioration de la bonne gouvernance au Cameroun. Un élément clé de cette nouvelle loi concerne les contrats que le gouvernement signe avec les entreprises d'exploitation de ressources naturelles, qui doivent maintenant être rendus publics. Si on le lit à la lettre, la loi devrait également exiger la publication de contrats Investisseur-Etat pour les investissements agricoles et forestiers, ce qui constituerait un progrès important dans la lutte pour la transparence. Bien qu'on puisse s'attendre de longues discussions sur ce que cela signifie pour le secteur des industries extractives au Cameroun, il ne faut pas négliger l'importance de cette nouvelle loi pour la transparence des investissements en lien avec la terre.
Qui profite de la transparence des contrats ?
Le nouveau code est une bonne nouvelle pour le secteur foncier au Cameroun. Les propriétaires fonciers, les investisseurs et les fonctionnaires peuvent envisager des processus de négociation et de suivi plus efficaces.
Les agences gouvernementales bénéficieront également de la mise à disposition publique des contrats. Par exemple, les organismes publics, tels que la direction générale des impôts, pourront rapidement obtenir le contenu des contrats signés par le gouvernement lorsqu'ils contrôlent les projets d'investissement dans le cadre de leur mandat.
La transparence des contrats est également essentielle pour les communautés locales affectées par les investissements fonciers et dont les moyens de subsistance dépendent de la gestion durable de leurs terres et ressources. Les communautés locales sont rarement tenues au courant des transactions spécifiques que le gouvernement a conclues avec des investisseurs et luttent pour découvrir les règles auxquelles l'investisseur est lié. L'investisseur est-il tenu de consulter la communauté ? Quelles terres spécifiquement l'investisseur est-il autorisé à utiliser ? Y a-t-il des limites à la quantité d'eau ou de produits chimiques que l'investisseur peut utiliser ? Les réponses à ces questions, si on ne peut pas les trouver dans les lois nationales, seront souvent contenues dans les contrats négociés entre le gouvernement et les entreprises privés. Grâce à la nouvelle loi, ces contrats devraient maintenant être rendus publics.
Nous avons contribué à une recherche pour évaluer la mesure dans laquelle les communautés au Cameroun connaissent les contrats forestiers qui pourraient les affecter directement. Dans presque tous les cas, les membres de la communauté n'avaient pas vu une copie du contrat affectant leurs terres. Ils en étaient à deviner le nombre de salles de classe, d'hôpitaux, de hangars ou de routes à construire par les entreprises voisines. C'était une source majeure de tension et même de conflit local. Rendre ces contrats publics peut aider à réduire les conflits locaux en gérant les attentes des personnes, en créant des opportunités pour les communautés de fournir des commentaires constructifs et en encourageant davantage les investisseurs à honorer les contrats qu'ils signent.
Les citoyens camerounais plus généralement bénéficieront également des standards élevés de la loi. Par exemple, le public examinera de plus en plus la manière dont le gouvernement gère les recettes qu'il perçoit au moyen des taxes payées par les entreprises.
Alors, quel est l'état actuel de la transparence des contrats pour les projets agricoles et forestiers ?
Certains contrats fonciers du Cameroun sont déjà accessibles au public. A titre d'exemple, le site web OpenLandContracts.org de Columbia University héberge actuellement 10 contrats et décrets agricoles du Cameroun. Et d'autres contrats peuvent être trouvés sur d'autres sites web nationaux et régionaux. Mais cela ne représente qu'une partie infime des informations existantes. Nous estimons que plus de 200 projets forestiers et une soixantaine de projets agricoles – tous disposant de contrats avec le gouvernement – sont actuellement opérationnels au Cameroun. Les difficultés actuelles d'accès aux contrats ont longtemps constitué un obstacle pour les communautés désireuses de protéger leurs droits et, pour les tentatives du gouvernement de réaliser des investissements responsables.
De manière optimiste, certains voisins du Cameroun mettent déjà certains contrats à disposition. Le gouvernement de la République démocratique du Congo a mis en ligne toutes ses contrats de concession forestières. La République du Congo, comme le Cameroun, publie certains contrats en copie papier dans son journal officiel, mais pas systématiquement. Plus loin, le Libéria publie également ses contrats forestierset la Sierra Leone s'est engagée à divulguer la majorité de ses contrats agricoles.
La transparence des contrats et des recettes publiques ne résoudra pas le large éventail de problèmes liés à la volonté d'avoir des investissements agricoles et forestiers responsables au Cameroun. Mais cela peut aider à assurer que toutes les parties prenantes soient mieux informées, ce qui conduit à un dialogue public plus productif et à une participation plus inclusive dans la planification des investissements. La transparence est également de plus en plus perçue comme une bonne chose pour les entreprises, comme le confirment des dirigeants de sociétés minières et des fonctionnaires du monde entier. Tout semble s'aligner pour que le Cameroun avance sur la transparence des contrats ; nous attendons maintenant de voir si le gouvernement remplira cette promesse.
Téodyl Nkuintchua est anthropologue et conseiller technique régionale chargé du développement et du plaidoyer au sein du Field Legality Advisory Group (FLAG), au Cameroun.
Sam Szoke-Burke est chercheur juridique au Columbia Center on Sustainable Investment.
Horline Njike est juriste de l'environnement et secrétaire générale au FLAG.
Cette pièce a été publiée par PLACE / Thomson Reuters Foundation News