Bénéwindé Rouamba Alumni Profile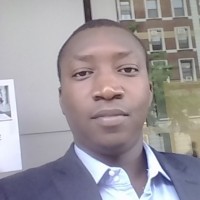 The Columbia Center on Sustainable Investment (CCSI) launched an Alumni Profile Series in which alumni of CCSI's Executive Training on Sustainable Investments in Agriculture are interviewed about their career paths.
In this profile, Bénéwindé Rouamba, Head of Project for Land for Life at Welthungerhilfe, and a 2019 Executive Training alumnus, addresses rural land governance policy reforms and sustainable agricultural investment to protect the food security and livelihoods of vulnerable groups in Burkina Faso, Ethiopia, Liberia, and Sierra Leone.
1. What do you do for work?
I work at Welthungerhilfe (WHH), a German NGO, as Head of Project for the Land for Life (LfL) initiative in the area of rural land governance in Burkina Faso. As background, the rush for land and the competition for natural resources continues, particularly in Sub-Saharan Africa. In many countries, land tenure security tends to be weak: There is either no clear legal framework or the implementation is rudimentary. Under these conditions, the legitimate land rights of rural communities are at risk. Whilst investment in agriculture and rural development are needed, large-scale land-based investments by external actors often constitute a threat to local livelihoods and food security.
Among the many responses to this situation, Welthungerhilfe, through the LfL program, has adopted the multi-actor platform (MAP) approach to influence land governance policy reforms. These aim to contribute to the formulation and implementation of policies on land tenure and responsible agricultural investments that are consistent with international standards; particularly, the human right to adequate food, in order to protect the food security and livelihoods of vulnerable groups in Burkina Faso, Ethiopia, Liberia, and Sierra Leone.
2. What does a typical day look like?
I don't really have a 'typical' day because I have to do many different things from one day to another. But, when I arrive at the office, I check and respond to my emails, participate in the workshops and meetings during the week. We have a staff meeting on a two-week basis. Frequently, I have meetings with MAP actors including government services, civil society organizations, farmers organizations, and the private sector, etc. about the national land law implementation, advocacy strategy development, or working on land-related issues. Regularly, I go to the field to receive feedback from rural communities on land issues.
3. How has your career trajectory led you to where you are today?
After my university studies on Economics and Organizations Management, I started working for a local NGO as the Project Manager on food and nutrition security, as well as the agribusiness and Water, Sanitation and Hygiene (WASH) program. I worked there for seven years before starting with Welthungerhilfe two years ago. I felt a real need to know more about land issues because many rural communities are facing these challenges today. Through my current job, I would like to contribute my skills and experiences to address these issues and to improve rural communities' living conditions.
4. What is one of your most memorable moments in your career and why?
My most memorable moments are when I meet with rural people to discuss their issues and I know that they are relying on us to change their situation. This is something that really touches, motivates, and fascinates me. Another memorable moment was when all our staff went out of the office for team building. I really appreciated the moment when all my colleagues left their office to strengthen team spirit and strengthen the bonds between all the members. It was an unforgettable moment!
5. What major issue related to sustainable investments in land are you particularly interested in at the moment?
I can note the growing interest of some actors in land, which is currently a big political issue in the debates. Indeed, there is a frantic race towards the acquisition of large areas of land by real estate companies as well as public and private figures, to the detriment of poor farmers. If nothing is done to improve land governance, the situation is likely to turn into a land conflict and undermine the country's social cohesion. That's the whole point of our fight right now.
6. What was your main lesson learned or take away from CCSI's Executive Training on Sustainable Investments in Agriculture? 
I learned many things during the CCSI's training. There were some very relevant and interesting topics for my work, especially the topics on:
CCSI's Five-Pillar Framework
Overview of investment in agriculture and implications for sustainable development
CFS Principles for Responsible Investment in Agriculture and Food Systems
Land rights, governance, and tenure security
International human rights law and agricultural investments
Gender impacts of agricultural investments
Transparency and accountability
I have learned that the issue of improving land governance and agricultural investment has several aspects to consider, including but not limited to community rights, women's rights, transparency and accountability, and international law and instruments.
7. How do you apply that lesson in your work? 
Lessons I learned during the training will allow us, as members of a platform, to stimulate reflection on land issues and contribute to advancing change in our country and our working environment. With the knowledge, skills and resources I obtained during the CCSI training, we are now able to identify together the common challenges to be addressed in order to bring about sustainable change. Echo trainings I made with my colleagues were very much appreciated.
8. What advice would you give to young professionals in your area of work?
My advice to young professionals in my area of work is, firstly, to understand the challenges you will have to face in the investments in agriculture and land issues; in order to be able to address investment issues in agriculture, it is important to understand the context, to identify the major challenges to which our intervention will be directed, and to define its areas of intervention. My second piece of advice is to really listen to all actors involved in the issue and those that you are working with.