The Yearbook on International Investment Law and Policy
New York: Oxford University Press, 2009-present.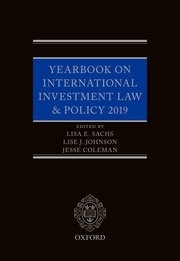 The Yearbook monitors current developments in international investment law and policy, focusing (in Part One) on trends in foreign direct investment (FDI), international investment agreements, and investment disputes. Part Two, then, looks at central issues in the contemporary discussions on international investment law and policy. With contributions by leading experts in the field, this title provides timely, authoritative information on FDI that can be used by a wide audience, including practitioners, academics, researchers, and policy makers.
A Yearbook Advisory Board and Editorial Committee guide and oversee the preparation of each edition, respectively.
The Advisory Board members are available here and in the front matter of each edition.
The Editorial Committee members are:
---
The Yearbook on International Investment Law and Policy 2020
The Yearbook on International Investment Law and Policy 2019 
The Yearbook on International Investment Law and Policy 2018
The Yearbook on International Investment Law and Policy 2017
The Yearbook on International Investment Law and Policy 2015-2016
The Yearbook on International Investment Law and Policy 2014-2015
The Yearbook on International Investment Law and Policy 2013-2014
The Yearbook on International Investment Law and Policy 2012-2013
The Yearbook on International Investment Law and Policy 2011-2012
The Yearbook on International Investment Law and Policy 2010-2011
The Yearbook on International Investment Law and Policy 2009-2010
The Yearbook on International Investment Law and Policy 2008-2009