Advancing Land Investment Transparency
CCSI conducts crucial research, facilitates multi-stakeholder dialogue, and advocates for transparency around agribusiness, forestry, and renewable energy projects ("land investments"). Transparency is more than just disclosure. It also includes open processes and the ability of communities, governments, and other actors to access, understand, and use relevant information to protect rights and further sustainable approaches to the governance of land-based investments.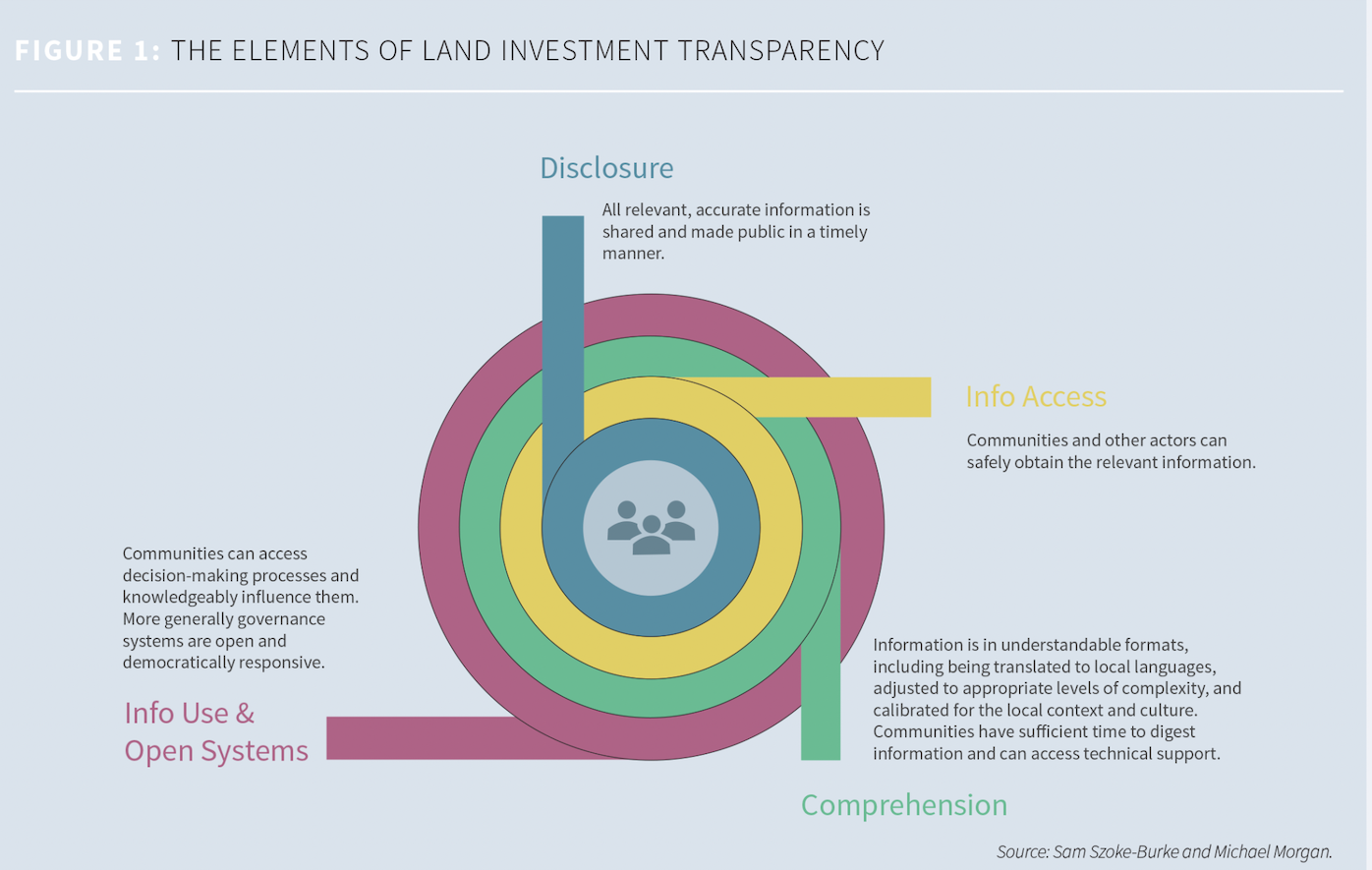 Despite their far-reaching implications, land investments are often negotiated and approved behind closed doors. Rights holders and even regulators alike risk being left in the dark about different actors' responsibilities, increasing the risk of unsustainable investment and aggrieved communities. Even when information is available, different actors may face barriers in using that information to advance their objectives and protect human rights. Challenges with consultations, free, prior and informed consent, impact assessments, permits and authorizations, contract negotiations, monitoring, and grievance redress thus all exhibit important transparency implications.
A consensus is increasingly evident on the need for greater transparency in land-based investment. CCSI works to make that consensus a reality, with a focus on catalyzing transparency in ways that bolster good governance, accountability, citizen empowerment, and the protection of human rights. 
In Focus: A demand-driven approach to land investment transparency
In a new global report, CCSI grounds land investment transparency in the needs of project-affected communities and other local actors. Transparency efforts that seek to inform and empower communities can also help governments, companies, and other actors to more effectively manage operational risk linked to social conflict. Troublingly, the report reveals enduring barriers concerning disclosure and the access, comprehension, and use of information by local actors. Taking a politically informed approach that considers the incentives of powerful actors, the report proposes seven strategies to advance land investment transparency:
Driving agendas with community-led processes, such as protocols, bylaws, and development plans
Increasing technical support for communities
Empowering good faith regulators
Implementing multi-stakeholder and participatory processes, when appropriate
Factoring community-generated information into investment-related decisions
Initiating domestic mechanisms to increase public access to information
Extending community participation beyond individual projects to the policy level.
The global report is accompanied by a Cameroon country snapshot report, co-authored by the Centre pour l'Environnement et le Développement (CED). The snapshot reveals that: 
Communities in Cameroon continue to be excluded from decision-making around investments.
The government pursues a top-down approach to concession allocation and remains reluctant to recognize all legitimate tenure rights.
The government faces threats to its legitimacy as the grievances of citizens and investors alike lead to community roadblocks and investor withdrawals.
CCSI and CED therefore call for:
A new law concerning the governance of land and land-based investment in Cameroon, to be developed in close consultation and collaboration with communities, Indigenous groups, and other actors. The law should respond to the transparency needs of affected communities, enable increased funding for technical support to communities, and facilitate the recognition of all legitimate customary land rights, with specific attention to Indigenous communities and women and girls.
A national moratorium on any new approvals for large-scale agribusiness and other land-based investment projects until Cameroon's legal and policy landscape has been reformed.
Reports and briefings
Blogs and opinion
Formal submissions