Transparency of Land-based Investments: Cameroon Country Snapshot
Une description en français est ci-dessous.
Despite a recent transparency law and participation in transparency initiatives, Cameroon's investment environment remains plagued by poor transparency.
In a new report focusing on agribusiness projects in Cameroon, CCSI and the Centre pour l'Environnement et le Développement (CED) find that:
Communities continue to be excluded from decision-making around investments.
The government pursues a top-down approach to concession allocation and remains reluctant to recognize all legitimate tenure rights.
The government faces threats to its legitimacy as the grievances of citizens and investors alike lead to the barring of roads by communities and investor withdrawals.
Investors are aware of the challenges of current legislation and are also in favor of inclusive land reform.
CCSI and CED therefore call for:
A new law concerning the governance of land and land-based investment in Cameroon, to be developed in close consultation and collaboration with communities, Indigenous groups, and other actors. The law should respond to the transparency needs of affected communities, enable increased funding for technical support to communities, and facilitate the recognition of all legitimate customary land rights, with specific attention to Indigenous communities and women and girls.
A national moratorium on any new approvals for large-scale agribusiness and other land-based investment projects until Cameroon's legal and policy landscape has been reformed.
Report (20 pages):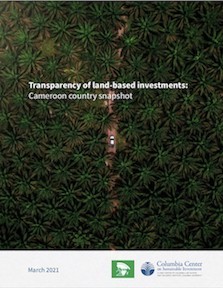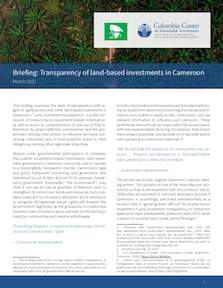 Community briefing (1 page):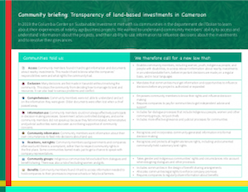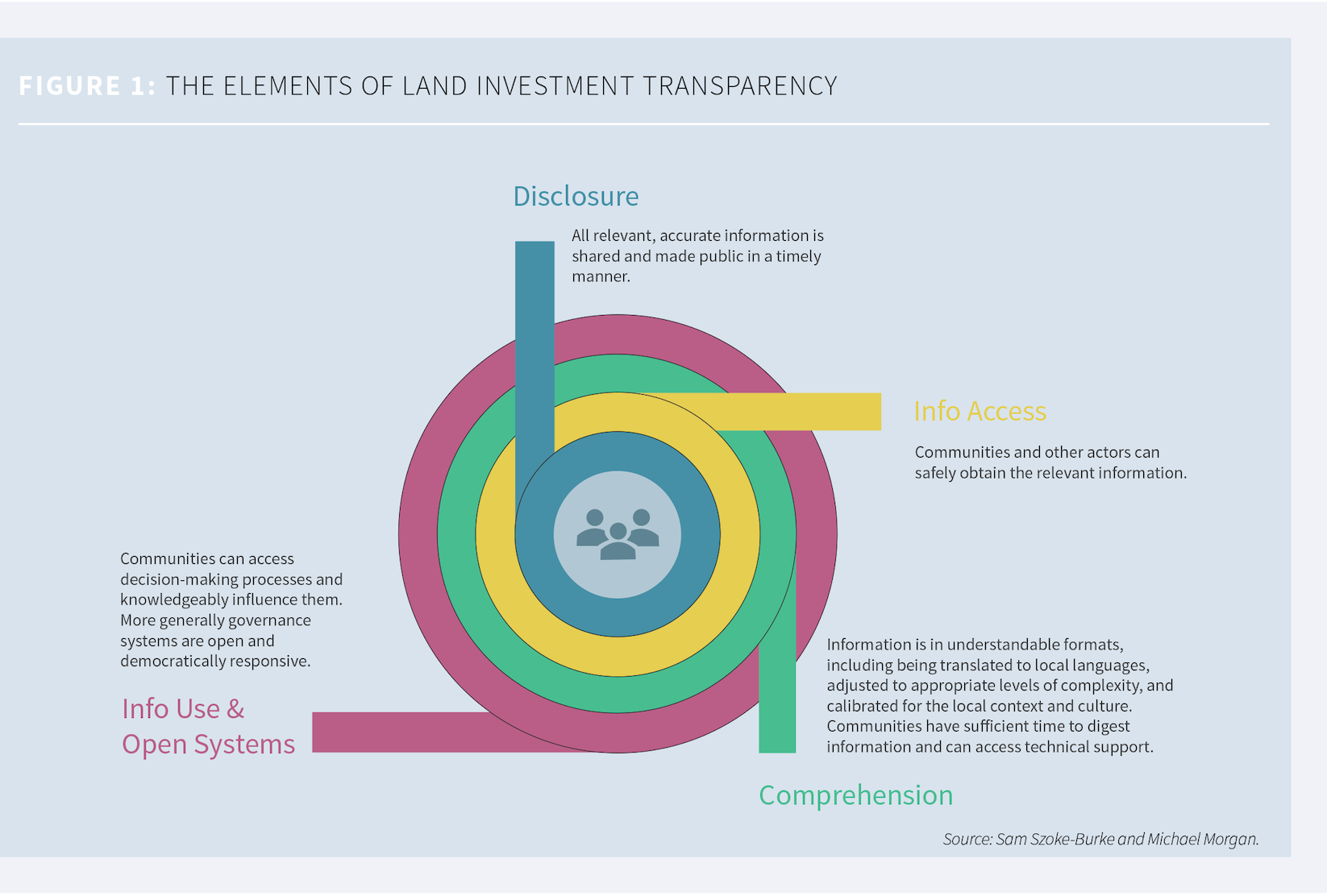 This research forms part of a broader portfolio of research conducted by CCSI on a demand-driven approach to land investment transparency, focusing on the transparency needs of project-affected communities and host governments. This project was funded with UK aid from the UK government; however, the views expressed do not necessarily reflect the UK government's official policies.
Transparence des investissements fonciers : étude de cas du Cameroun
Bien que des informations sur certains projets d'investissements soient rendues publiques, et malgré une loi récente sur la transparence, la gestion des investissements fonciers au Cameroun n'est, de toute évidence, pas véritablement transparente dans l'ensemble.
Dans un nouveau rapport se concentrant sur les projets d'agrobusiness au Cameroun, le Columbia Center on Sustainable Investment (CCSI) et le Centre pour l'Environnement et le Développement (CED) constatent que :
Des communautés continuent d'être exclus des prises de décisions concernant l'investissement ;
Le gouvernement agit selon une approche descendante dans l'attribution des concessions et montre une réticence à reconnaître tous les droits d'occupation légitimes ;
Les griefs des citoyens en général et des communautés riveraines de l'investissement en particulier continuent de croître en remettant en cause la légitimité des investisseurs et du gouvernement ;
Les investisseurs sont conscients des défis de la législation actuelle et sont également en faveur d'une réforme foncière inclusive.
CCSI et CED recommandent donc que :
Une nouvelle loi concernant la gouvernance des terres et des investissements fonciers développée de manière inclusive, avec la participation significative entre autres des communautés et groupes indigènes. Ladite loi doit répondre aux besoins en transparence de la communauté visée, augmenter le financement pour le soutien technique aux communautés et faciliter la reconnaissance de tous les droits fonciers légitimes, y compris les droits fonciers coutumiers, avec l'attention spécifique aux communautés indigènes, aux femmes et aux filles.
Un moratoire national pour surseoir l'attribution de nouvelles concessions de terres pour l'agrobusiness et d'autres projets d'investissement foncier à grande échelle, jusqu'à la révision du cadre juridique et politique de gouvernance foncière au Cameroun.
Rapport (21 pages):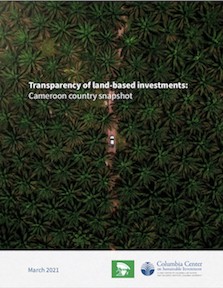 Note d'information (6 pages):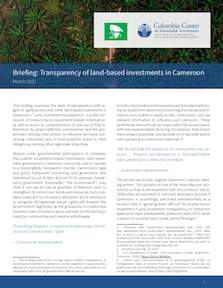 Note d'information communautaire (1 page):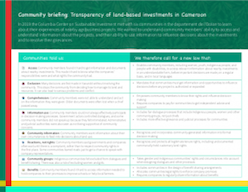 Cette recherche fait partie d'un dossier vaste de la recherche menée par CCSI avec l'approche fondée sur la demande de la transparence des investissements fonciers, se concentrant sur les besoins de transparence des communautés concernées par le projet et le gouvernement hôte. Ce projet a été financé par l'aide britannique du gouvernement britannique ; cependant, des opinions exprimées dans cette étude ne reflètent pas nécessairement la politique officielle du gouvernement britannique.