Conceptualizing Economic Linkages to the Resource Sector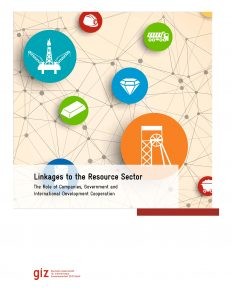 With support from GIZ, CCSI reviewed how companies, governments and international development organisations can promote economic and infrastructure linkages from the extractive industries sector. Apart from providing the theoretical framework for linkage creation, the study gives an overview of the existing literature on the topic, and highlights successful case studies. Recommendations are provided for the three types of stakeholders. Download the report here.
On the basis of this report, GIZ commissioned CCSI to prepare a training course that can be taught in one or two days. The course material encompasses pre-training exercises, presentations, interactive learning activities, a handbook for trainers and a manual for trainees. The material is prepared with flexible training modules, which allows for the course to be adapted to local demands.
Following a regional training on linkage creation in Latin America, the Colombian Government commissioned CCSI to prepare a policy brief focused on its mining sector. The brief gives an overview of existing regulatory requirements, government policies and company programs to foster economic and infrastructure linkages from the mining sector. Based on the findings, the brief provides suggestions for next steps if the government is to develop a more comprehensive linkage creation program. Download the English version of the policy brief here and the Spanish version here.
To learn more about the various types of linkages from extractive industry investments please visit: Employment from Mining and Investments in Land for Agriculture, Fostering Knowledge and Technology Spillovers of Extractive Industries, Local Content Laws & Contractual Provisions, Leveraging Mining-Related Infrastructure Investments for Development, Downstream Beneficiation of Extractive Resources. To understand how automation and investment treaties impact linkages please visit The Mine of the Future and impact of trade and investment treaties constraining the policy space on linkage creation.