Briefing for Grass-Roots Organizations – Bridging the Information Gap: How Access to Land Contracts Can Serve Community Rights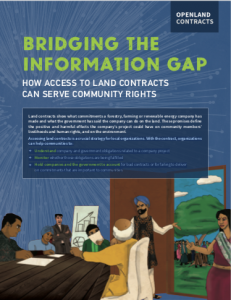 Land contracts (also known as investor-state contracts, or concession agreements) show what commitments a forestry, farming or renewable energy company has made and what the government has said the company can do on the land. These promises define the positive and harmful effects the company's project could have on community members' livelihoods and human rights, and on the environment.
Accessing land contracts is a crucial strategy for local organizations. This briefing note explains how local organizations can use land contracts and OpenLandContracts.org to help communities to:
Understand company and government obligations related to a company project
Monitor whether those obligations are being fulfilled
Hold companies and the government to account for bad contracts or for failing to deliver on commitments that are important to communities
Organizations can also use OpenLandContracts.org to raise broader public awareness about government contracting practices, and to campaign for contract transparency.
Download the briefing note here.
Téléchargez la version française du document ici.
Here's what representatives from local organizations have to say about land contract transparency and OpenLandContracts.org:
Having open access to contracts has the potential to 'level the playing field' and address imbalances in knowledge. Knowledge is power!
– Justine Sylvester, Village Focus International, Laos
Sometimes people support concessions based on the assumption that they will benefit. However, once they understand the contract, they realize many of the benefits are uncertain. People learn how to ask better questions and demand a seat at the table.
– Francis Colee, Green Advocates, Liberia
We use OpenLandContracts.org to review land contracts across the African continent in order to assess provisions that governments have included in their contracts, and to provide guidance on the types of provisions governments in this region should and should not include. It is incredibly useful to have all the contract information in the same place.
– Samuel Nguiffo, Centre Pour l'Environnement et le Développement, Cameroon
---
This briefing was written by Lara Wallis and Sam Szoke-Burke. We are grateful for reviews and assistance from Francis Colee, Jesse Coleman, Kaitlin Y. Cordes, Vanida Khouangvichit, Tehtena Mebratu-Tsegaye, Jed Miller, Horline Njike, Simpson Snoh and Justine Sylvester.